Weather forecast South Tyrol
Today: Partly weak snowfall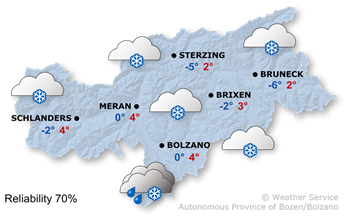 The day will be very cloudy, initially it may snow very lightly in many valleys. During the day it will rain and snow in places, snow line rising to 500 to 1000 m. Maximum values from 0° to 4°.
---
Next days Weather forecasts: Very sunny Sunday
Still cloudy on Friday, precipitation will spread during the day, becoming stronger in the evening. Snow line around 1500 m, sinking to 1000 m in the evening. Saturday some precipitations in the morning, gradually easing with a northerly foehn winds from the west. On Sunday sunny weather, cloudless sky. Clouds will increase again on Monday and it will remain cold.